43esimi CMA AWARDS: i vincitori
Posted by CountryStateLine on 17th novembre 2009 in
Home (News)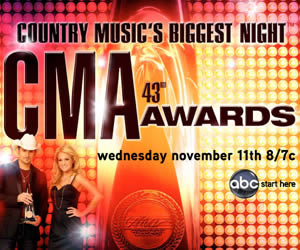 Ecco i vincitori dei CMA Awards decretati nel corso della serata dell'11 novembre presso il Sommet Center di Nashville presentata dal duo Carrie Underwood e Brad Paisley. Sarà di certo ricordata come l'edizione dominata dalla "nuova arrivata" Taylor Swift la quale, piaccia o meno lo stile del suo "country", a 19 anni si porta a casa in una volta sola ed al suo esordio quattro premi, tre dei quali tra i  più importanti. Vedremo se saprà confermare quanto lasciato intravedere in questo 2009. Mi dilungherò in altra sede sulla cronaca della serata, a beneficio di chi non avesse potuto seguirla. Intanto ecco l'elenco dei vincitori (per rivedere quali fossero le nomination cliccate qui).
ENTERTAINER OF THE YEAR
Taylor Swift
MALE VOCALIST OF THE YEAR
Brad Paisley
FEMALE VOCALIST OF THE YEAR
Taylor Swift
VOCAL GROUP OF THE YEAR
Lady Antebellum
VOCAL DUO OF THE YEAR
Sugarland
NEW ARTIST OF THE YEAR
Darius Rucker
ALBUM OF THE YEAR
«Fearless»
Taylor Swift
Prodotto da Nathan Chapman e Taylor Swift
(Big Machine Records)
SINGLE OF THE YEAR
«I Run To You»
Lady Antebellum
Prodotto da Victoria Shaw e Paul Worley
(Capitol Records Nashville)
SONG OF THE YEAR
«In Color»
Scritta da Jamey Johnson, Lee Thomas Miller e James Otto
MUSICAL EVENT OF THE YEAR
«Start A Band»
Brad Paisley – duetto con Keith Urban
(Arista Nashville)
MUSIC VIDEO OF THE YEAR
«Love Story»
Taylor Swift
Diretto da Trey Fanjoy
MUSICIAN OF THE YEAR
Mac McAnally – Chitarra
Leave a Reply
You must be logged in to post a comment.