Posted by CountryStateLine on 13th febbraio 2012 in
Home (News)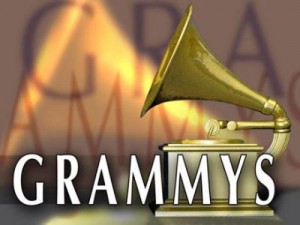 La 54esima edizione dei Grammy Awards , aperta dalla esibizione del grande Bruce Springsteen accompagnato dalla sua E-Street Band e dominata da Adele che si è portata a casa sei premi su sei nomination, sarà inevitabilmente ricordata come l'edizione del grande tributo a Whitney Houston, altra immensa icona della musica pop sacrificatasi all'altare della fama che consuma, del mito che uccide, prematuramente morta l'altroieri – una sera prima della premiazione – a neanche  49 anni per ragioni ancora da chiarire del tutto ma di certo legate al suo ultimamente precario equilibrio sul filo della vita e ai suoi nefasti rapporti con alcol e droghe.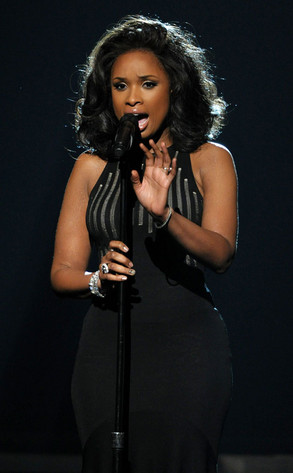 A renderle omaggio, oltre a tutto il parterre, mentre la presenza sua e dei suoi 6 premi Grammy vinti nel corso di una sfavillante carriera snodatasi nel corso degli ultimi 27 anni aleggiava sul Convention Center di Los Angeles, è stata la bella e brava Jennifer Hudson (nella foto John Shearer / WireImage), che trattenendo le lacrime ha eseguito in conclusione di un omaggio filmato e fotografico l'indimenticabile "I Will Always Love You", scritta dalla nostra amata Dolly Parton e riportata in gloria eterna da Whitney nel 1994 quando ne fece il cavallo di battaglia della colonna sonora del suo film "The Bodyguard" col quale – manco a dirlo – vinse il premio per l'album dell'anno. Un omaggio se vogliamo anche più corto del previsto. Ma chi se lo aspettava – solo 24 ore prima – di dover preparare un omaggio del genere?
Ciò doverosamente premesso, il country ha fatto la sua meritata comparsa anche ai Grammy, con tanta vetrina e molte importanti nomination che hanno creato attese non da poco. Tra i "big" alla fine hanno vinto Taylor Swift, Lady Antebellum e The Civil War. La prima, che subito dopo aver vinto si è scattata una foto (quella che vedete) e l'ha postata su Twitter, si è accaparrata i premi per Best Country Solo Performance (Migliore Interpretazione Country Singola) e  Best Country  Song (Migliore Canzone Country) per "Mean" ; i secondi hanno vinto il Grammy per il Miglior Album Country ("Own The Night") con la sorpresa di Charles Kelley che sul palco ha dichiarato «Non ce lo aspettavamo.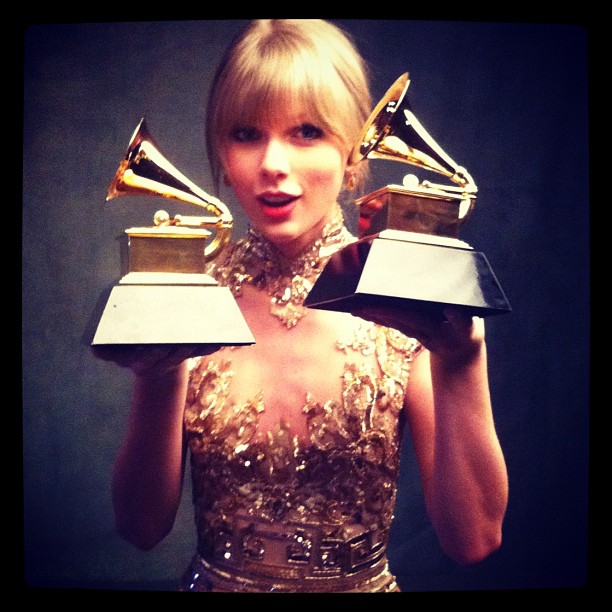 Grazie per averci cambiato la vita l'anno scorso.»  Lady A hanno sconfitto nella categoria Jason Aldean ("My Kinda Party"), Eric Church ("Chief"), Blake Shelton ("Red River Blue"), George Strait ("Here For a Good Time") e Taylor Swift ("Speak Now"). The Civil War si sono portati a casa il Grammy per Best Country Duo/Group e Best Folk Album per l'album "Barton Hollow". The Civil War hanno sconfitto "Don't You Wanna Stay" di Jason Aldean e Kelly Clarkson, "You And Tequila" di Kenny Chesney e Grace Potter e "Are You Gonna Kiss Me Or Not" di Thompson Square.
Alison Krauss and Union Station hanno vinto il Grammy nella categoria Best Bluegrass Album con "Paper Airplane" (oltre ad un Grammy "tecnico", quello nella categoria Best Engineered Album, Non-Classical) battendo Steve Martin and The Steep Canyon Rangers con "Rare Bird Alert", Jim Lauderdale con "Reason And Ryhme", Del McCoury Band con "Old Memories: The Songs of Bill Monroe" e la coppia Chris Tile/Michael Daves con "Sleep With One Eye Open".
Levon Helm ha preso l'Americana Grammy per "Ramble At The Ryman", un disco dal vivo, battendo "Pull Up Some Dust And Sit Down" di Ry Cooder, "Hard Bargain" di Emmylou Harris e "Blessed" di Lucinda Williams.
Chiudo con la battuta migliore della serata. Blake Shelton, quando ha "perso " il secondo Grammy in cui era nominato a favore di Taylor Swift, ha dichiarato: «Non so chi sia questa, ma pare essere molto popolare in tutto il mondo…»
M.A.