A marzo arriva anche "Reflections", il nuovo album del veterano Don Williams
Posted by CountryStateLine on 11th gennaio 2014 in
Home (News)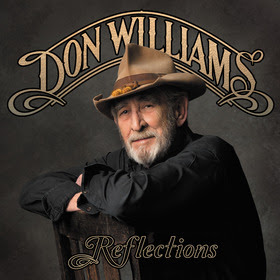 Classe 1939, texano doc, Don Williams grazie alla sua bellissima voce tenorile (che io adoro) e alla sua stazza è stato quasi subito soprannominato "il gigante buono" della  musica country. Ufficialmente ha esordito nel mondo discografico country nel 1964 ma la sua prima esibizione fu a tre anni. Sempre ufficialmente, nel 2006 aveva annunciato il suo ritiro dalle scene salvo poi rientrare in piena attività nel 2010. Per inquadrare la grandezza dell'autore e dell'artista dirò solo che, dei 46 singoli pubblicati in carriera, solo 4 non sono entrati nella Top Ten country.
Ieri Williams ha annunciato la pubblicazione del suo 27esimo album in studio, "Reflections", coprodotto per l'etichetta Sugar Hill (da sempre sinonimo di qualità) con il fidato Garth Fundis, veterano già al lavoro tra gli altri con Alabama, Trisha Yearwood e Sugarland. Il disco uscira l'11 marzo e conterrà 10 tracce, firmate tra gli altri da Townes Van Zandt, Merle Haggard e Jesse Winchester. Tra i titoli dell'album: "Stroger Back", "Back To The Simple Things" e "Working Man's Song" che celebrano la resistenza e l'integrità degli uomini e delle donne comuni; mentre "I'll Be Here In The Morning" e "I Won't Give Up On You" sono storie d'amore.
Per tutte le altre uscite discografiche previste  andate alla sezione
USCITE DISCOGRAFICHE 2014.
Leave a Reply
You must be logged in to post a comment.